Costa Rica Tour and Panama Cruise with CruiseWest
Manuel Antonio National Park and Caletas Beach Picnic * Text and Photos by Jack Yeazel
Return to Home Page
GENERAL:
The park includes a small forest area, populated by monkeys, raccoons, and various wildlife. There are three exceptionally beautiful beaches. It is one of the few remaining areas in which the squirrel monkey exists. The trails trek through a secondary forest and some primary forest, dominated by hybrid marshes of cedar and mangrove. The beaches are flanked by coconut palms in a tropical setting.
Check thumbnails on these two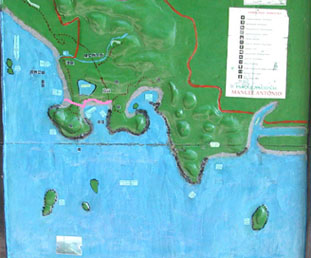 ...
Photo of Park map with trails and beaches.
CenRut map showing the trails. The 'heavy' contour line is the actual shore.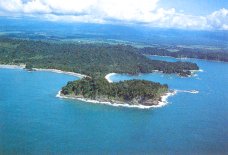 .....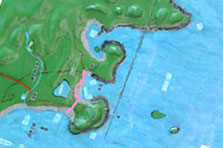 .....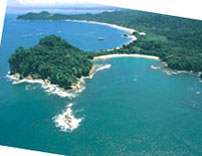 The Pacific Explorer was anchored in the left-hand cove of the aerial view.
This park map has been rotated to agree with the aerial view. .
Aerial view looking north. The ship was anchored about where the small boat is.
Click on the following thumbnails for larger views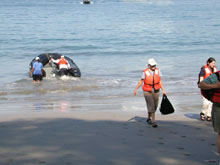 .....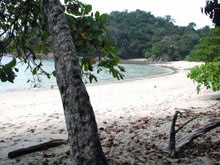 .....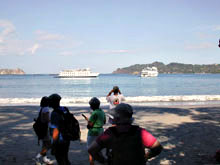 Going ashore is mostly by rubber boats -and wet feet!
View looking north along the beach.
Note that the terrain in the background is the same as in the aerial photo just above.
Capuchin monkey observing a 'beach comber' observing the monkey.
Here there was a constant sound of cicadas, the only place we encountered them.
Scenic stream.
Lizard 'sun bathing'.
Lizard playing 'hard to see'.
A Black Buzzard dries his wings after taking a dip in a pool to the left.
In this tree is a three-toed sloth. Find it if you can! These animals are very hard to spot.
But our guide, Ricardo Guindon (in front of a huge bamboo tree), found him with his spotting scope.
The sloth (hard to make out in the scope) is looking back over his shoulder. Their heads can turn 180°.
Caletas Beach Picnic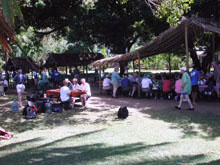 .....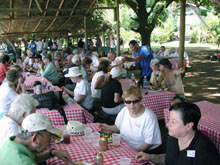 ....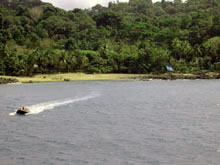 The park has accommodations for a large group.
A barbecue lunch is transported to shore by the crew.
The last two boats to leave the shore after cleaning up the beach.