Above the Timber High Resolution 24K Colorado Topographic Maps for Garmin GPSRs
Check (HERE) for the new Washington Topo Maps
Return to GPS General Information Home Page
Screen Shots and Photos by jack yeazel (Click on photos)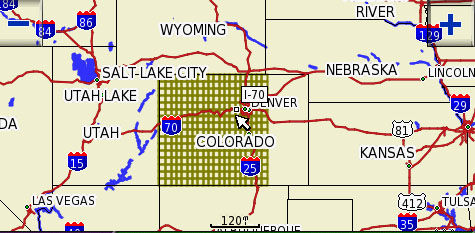 Coverage of the 320 15' Quadrangle Maps in the Set


GPSmap 76S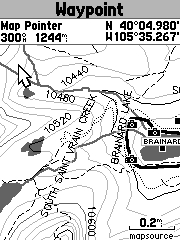 ..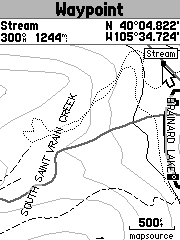 ..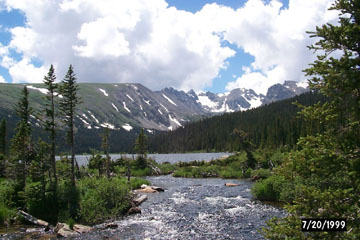 Above the Timber 24K Maps ° Lake Brainard in the Roosevelt National Forest
The dotted line is a track made from a hike. ° (About 10 miles north of Nederland, CO).
GPSmap 76C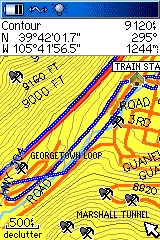 .....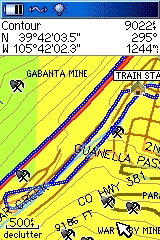 ...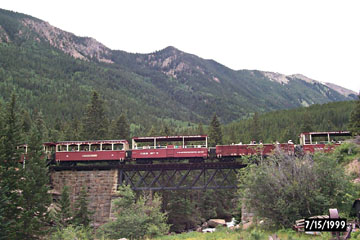 Above the Timber 24K Map ° Garmin USA Topo Map ° Riding the Loop Railroad in Georgetown, CO.
The track is in blue.
zumo 550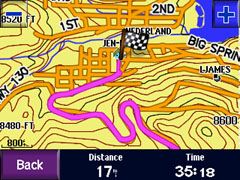 ...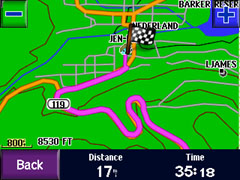 ...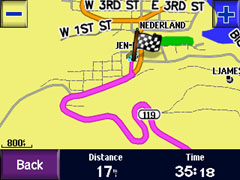 Above the Timber 24K Map ° Garmin USA Topo Map ° Garmin City Navigator
Maps of Nederland, CO (About 12 miles west of Boulder)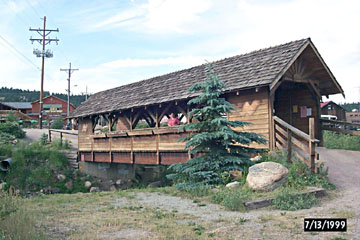 ..
Nederland Covered Bridge over the Big Spring Creek Shown on two of the Above Maps
COMMENTS:
This map program is professionally produced from USGS DEM (Digital Elevation Model) data, which are points on a 10-meter grid with elevations. The program has interpolated between these points to produce contour lines. Also added are high-resolution water data, roads, streets, and forrest service trails. In taking the above screen shots, the maps were 'mixed' with other Garmin maps without ill effect.
Loading them into MapSource was remarkably 'uneventful' -for a Win-XP machine. (I wasn't able to load them into a Win-98 machine, but that needs to be confirmed elsewhere.) One does notice that the roads are somewhat 'fat', but the purpose of the maps are for OFF road trekking. With these maps in your GPS, I think you would have to 'work' at getting lost!