Review of a Thistle Hotel's Extremely Costly

Telecom and Internet Access

Pricing Policies

-or-

"

You've been Thistled

".
by Joe Mehaffey


UPDATE as of 22 August 2009: I am notified by the General manager of Thistle Hotel/Euston-London that they have modified their policy somewhat. His message follows:


I am delighted to be able to inform you that we have had installed here in the hotel BT Openzone. The system is a wireless system where by you purchase for £6 a voucher which will enable you to have 60 non consecutive minutes access within a 24 hour period. We also sell a £10 voucher that enables you to have 24 hours access from when you first log on.

The system works extremely well and we have full coverage through out the hotel. We do also have a computer terminal in the hotel lobby which works on the same principal.

The above reflects about a 33% reduction from the rates for Internet service I experienced in 2004. US$17 a day for Internet service is still among the highest I have seen in my travels. I sent an inquiry as to if, or not, the other high charges of

£10 per minute (about $17) for "Premium Calls" such as my call to the local Public Library had changed. Also if they now allow "free phone" calls (similar to free 800 calls in the USA) now. Also, it was not stated in Mr. Moffatt's email if the new system charges for "Connected to the Wireless Network" time or if it only charges for minutes when user data is passed. I have not received a response so I have to conclude that the policy of blocking "free phone" calls is still in effect until I hear differently.from Mr. Matthew Moffatt, General Manger, Thistle Euston Hotel. Here in the USA I am happy to report, we now have MOST (but not all) hotels offering FREE-of-extra-cost Internet services to registered guests.



---
Can this be the Thistle Hotel (UK) general policy?
I had the pleasure of visiting London UK for several days in October 2004. I looked for a "reasonably" priced but quality hotel room. In London, this can take some shopping but careful shopping usually pays. I was offered a "Superior double room" at the Thistle Hotel Euston (TH) near Euston Station in London for about US$200 per night and it did not sound too bad.. The room turned out to be just fine.

But.. It was not the initial price, it was the "Pounding" for the extras that ultimately got to me at Thistle Euston. Here are the most costly and flagrant extra charges and policies of the hotel.
1) I specified to my agent that I wanted a hotel with Internet capability. The TH advertised that they had this. When I arrived, I read the brochure and noted that the charge for Thistle Hotel high speed Internet for guests was 50p (about 90 cents US) PER MINUTE for Internet access and with a UK 15 Pound maximum charge per day. This means that if you browse the Internet for just 30 minutes a day, you pay the 15 Pounds or US$25 for the service. This is much more than twice the largest incremental cost per minute that I have run into in any other hotel the world over. Am I just lucky?
2) As a result of item #1 above, I opted to use my AOL dial up Internet service which provides a local "FreeFone" number for London and for the UK in general. This entitles AOL users in the UK to (supposedly) call AOL and log in free of telephone line charges most anywhere in the UK. BUT.. I plugged my laptop's modem into the telephone outlet using my standard UK to RJ11 modem cable and.. No dial tone was found.
Just to make life interesting, Thistle has reversed the tip/ring pairs for line 1 and line 2 in their wall plugs. This makes the active pair for the room telephone line 2. Thus, the standard UK(line 1) to RJ11 (line 1) phone cable to your computer's modem will not work when you plug it in. You must cut your standard UK modem cable and reverse the wire pairs from the standard. My guess is that this frustrates all but the rather technical minded users who want to use their laptop to connect to outside dial-up Internet from the hotel. (Why not just pull the RJ11 plug out of the room phone and use it? Because they had glued it in and it was not removable from the telephone. Nice touch!)

After cutting the cable and reversing the wires in the modem cable, I had dial tone on the modem and could dial the "FreeFone" AOL London access number. But Wait! I kept getting a "number not working" error signal.
I tried the number from a pay phone and it worked fine. Then I asked at the hotel desk and found out that the Thistle Euston telephone system has BLOCKED access to these "freefone" AOL numbers so that you must use their (about 50p or about US$1.00 per minute) regular local calling service to access AOL or any other Dial-up Internet service. In fact, TH has a "block" on all "local FreeFone" numbers so that guests will have to pay their large price per minute to make any local call. This in a city where many businesses offer their customers "FreeFone" service in which the called business pays for the local call.
I think someone at Thistle Hotel Euston gave this scheme a lot of thought toward forcing customers to use their expensive Internet service and local phone services or do without! With this scheme, it costs about 1 pounds (US$1.80) for two minutes connect time to collect/send your email when using Dial-up to a local London phone number. They have you coming AND going! Think of the furor if a hotel in the USA blocked free 800 number calls by guests!

But wait! Then it is cheaper to use the high speed Internet service as opposed to the dial up. Well, you might think so. But the hotel charges for ALL time that your ethernet cable is PLUGGED IN to your computer. Tricky aren't they! They know that on a high speed Internet connection, the user does not normally think to quickly unplug his ethernet cable when he completes a data transfer. So.. You sign on for the service, use it for a minute to collect your mail and go out for fish and chips and return 30 minutes later. You have been "plugged in" for 30 minutes so you owe the hotel US$25. You do not pay for "megabytes transferred" or "usage time". You pay for "plugged in" time. Someone gave this system a lot of thought toward maximizing THEIR revenue at the guest's expense!

3) Just when I thought I had witnessed the biggest price gouge in the communications market, I got my final hotel bill and it showed a charge of 42 UK Pounds (about US$75) for ONE call to the British Library's Customer Help Line. The call lasted just beyond 4 minutes. The British Library (in London) charges 50p (about US 90 cents) per minute for these calls but the TH manager told me that it was Thistle Hotel policy to charge TEN POUNDS PER MINUTE (about US$18.00) for "any premium call". Any call reflecting an extra cost back to the hotel's PBX is deemed a "premium call". The user has no awareness of this "premium call charge" or of the policy until he gets his bill. The duty manger refused to make a reasonable adjustment and so I have asked AMEX to attempt to intervene on my behalf to get this charge reduced to a reasonable amount.
I have had pleasant and unremarkable stays at many Thistle Hotels in the UK over the years. And... This is my first encounter with unreasonable rates or policies at a Thistle Hotel. I hope this is an isolated case of a rogue managing one hotel and not Thistle Corporate Policy. If it IS Thistle Hotel policy, I suggest considering other options unless you intend to make no phone calls and not operate on the Internet during your Thistle Hotel stay.

If the trend continues at Thistle, perhaps they can give the rooms away and just charge for the use of the telephone and Internet! :)
Then again, "You've been THISTLED" may be the next new catch phrase.

If the above hotel policy should change or if anyone has new information or other comments about the above, please email me. Should their policy change, I would like to change the writeup to follow their revised policy. I cannot believe Senior Management will leave the situation as-is once they are aware of it.


Joe Mehaffey

November 23, 2004 news: Thistle Hotels has offered to refund the 42 pounds they charged for my 5 minute local phone call. They have also said that they are reviewing their entire policies regarding their telephone and Internet access. If anyone would like to send them an email to suggest how they might improve their offerings, click HERE. PLEASE give them SERIOUS suggestions. Lets assume these guys are trying to fix their policy.


========================================================

Notes: On this four week European trip, we stayed at a hotel every night. High Speed Internet services varies from A) none available to B) Free-to-use in the Business Center to C) Free to use WiFi in the lobby to D) about $5 to $12 per day in the room to E) Thistle Hotel Euston's remarkable $25 for a half hour or day. Local telephone charges at hotels varied from A) Free Local Calls to B) about 10 cents per minute to C) about 25cents per minute. Then there was Thistle Euston's Local Calls at about US$1.00 per minute for local calls and a Whopping $18 per minute for the "premium" call noted above. NO HOTEL that we stayed at in Ireland, UK, France or Germany blocked our calling to the local AOL telephone number EXCEPT the Thistle Hotel Euston in London. It is interesting to note that my LD telephone card did have a number to call on which call TH did not make a charge. If I had been thinking, I guess I could have used the LD calling card (about US 4 cents per minute) to call the Atlanta Ga. AOL modem access number! I do recommend a local LD calling card wherever you go to "phone home". It is FAR cheaper than any hotel LD rate. See HERE for more information about our experiences with finding Internet connectivity on our European holiday.

---
A copy of the Thistle Euston Telephone Call Invoice and the confirmation from the British Library of their call rates follow.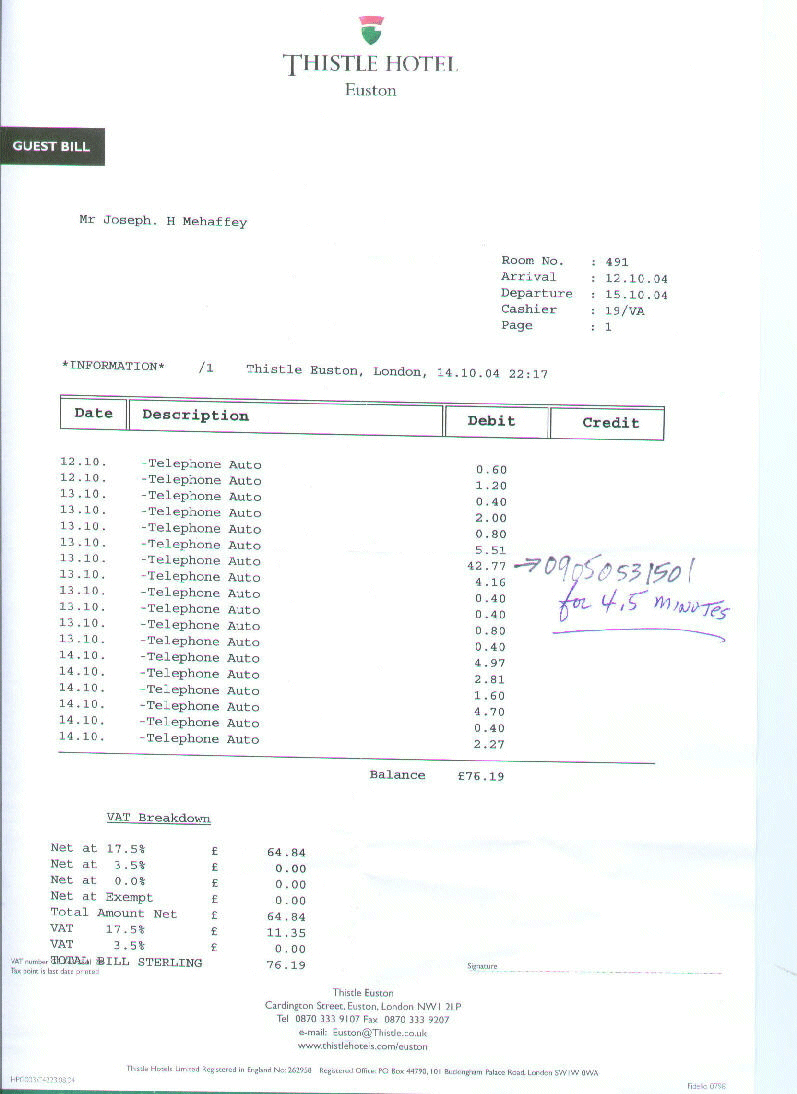 ---