Costa Rica Tour and Panama Cruise with CruiseWest
Poás Volcano National Park * Text and Photos by Jack Yeazel
Return to Home Page
GENERAL:
Few volcanoes allow you to drive to within 1,000 feet of the cauldron, where a short stroll puts you at the very edge of one of the world's largest active craters (one mile wide). The viewing terrace gives a birdís-eye view not only 1,060 feet down into the bowels of the volcano, with its greenish sulfuric pool, but also down over the northern lowlands.
Poás at (8,442 feet maximum elevation) is a restless giant with a 40-year active cycle. It erupted moderately in the early 1950s and has been intermittently active ever since. The park is frequently closed to visitors because of sulfur gas emissions. Over the millennia it has vented its anger through three craters. Two now slumber under a blanket of vegetation, but the main crater bubbles persistently with active fumaroles and a simmering lake. The sulfuric pool frequently changes hues and emits a geyser up to 600 feet into the steam-laden air. The water level of the lake has gone down about 15 meters during the past decade, one of several indications of a possible impending eruption. In the 1950s a small eruption pushed up a new cone on the crater floor; the cone is now 220 feet high and still puffing.
Click on these thumbnails for a larger view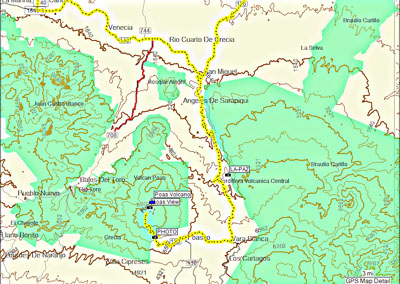 .....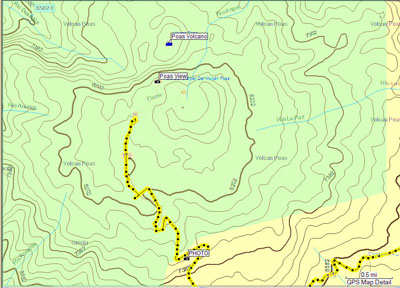 CenRut location maps of the Poás Volcano (the cauldron in a 'saucer' basin)
Jorge explains that the sulfur fumes may limit our visit.
The main entrance to the park.
Guests approach the crater rim.

Panoramic view of the volcano from the visitor area.
As it turned out, the day was unusually clear and the wind blew the sulfur fumes away from us.
Guests Yeazels and Greens at the rim
Volcano info.
View from the volcano info location (by someone else with a Canon S50)
View from the volcano mountain toward the SE (from the "photo" waypoint.)