Costa Rica Tour and Panama Cruise with CruiseWest
Interesting Stops along the Way * Text and Photos by Jack Yeazel
Return to Home Page
GENERAL:
The CRT organization (see their web site HERE) stopped the big bus at several interesting sights as we traveled along. The first was a combination ice-cream parlor and iguana hangout! While indulging ourselves is some tasty ice cream, we were treated to green iguanas in their mating season -at which time they turn orange! Apparently, the orange color tends to attract more females. Wasn't it Kermit the Frog that said, "It isn't easy being green"? The iguanas live in some trees draping over a local river, right next to the ice-cream parlor. See orientation map (HERE).
Click on the following thumbnails for larger views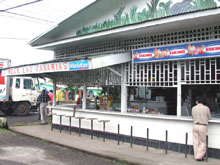 .....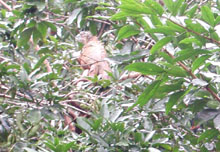 .....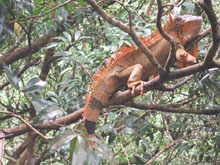 Jorge selects his ice cream
Iguana playing "hard to get".
This big fellow is decked out with a "display pouch" under his chin.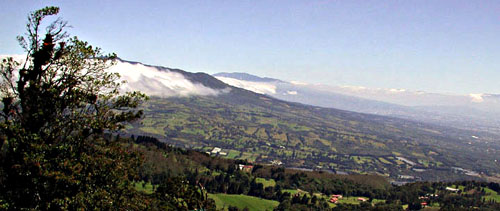 A panorama from a stop while descending the Poás Volcano to the south and the Pacific Ocean.
These crocodiles hang out under a bridge on the way to the ship dock. Apparently they're well fed from chicken carcasses tossed in by the locals.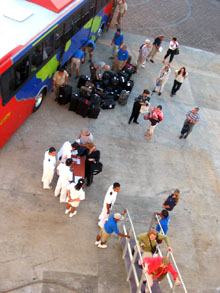 At the end of the land tour, the CRT bus pulls up next to the ship's gang plank.
As usual, all baggage handling is done by the crew.
A special note for our guide, Jorge Monge. He was the most knowledgeable, entertaining, and informative guide that Rita and I can remember. His running comments on the bus made some long drives actually enjoyable! And on the ground, he could qualify for a professional naturalist.