Costa Rica Tour and Panama Cruise with CruiseWest
Cruise West's Pacific Explorer, 100-passenger ship * Photos and text by Jack Yeazel
Return to Home Page
GENERAL:
The ship, built in 1995 and remolded in 1998, is 185 feet long and 40 feet beam. The cabins (about 10x12 feet) are air conditioned with private baths and hot water showers. The ship cruises at about 10 knots and has accommodations for 100 guests. There is a crew of 25 including expert naturalists in the local ecology. All guests are served at one sitting. Transportation to shore activities is provided by "Zodiac" type rubber boats and requires a certain amount of "dexterity" to get in and OUT of them.
After the CRT tour, the ship is boarded from the resort city of Herradura on the west coast of Costa Rica.
Click on the following thumbnails for larger views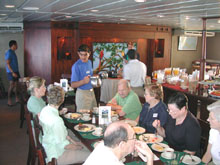 .....
.....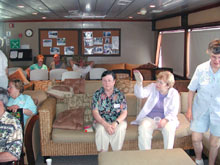 The first order of business was to serve dinner!
After dinner, guests gathering in the Lounge for a slide show of upcoming events.
The crew briefing on tomorrow's activities.
Sometimes meals were served on the Sun Deck.
The bar is also on the Sun deck. (They never ran short of fruit punch!)
Exploration Leader, Rudy Zamora, explains the extensive effort made in conserving plant and animal diversity.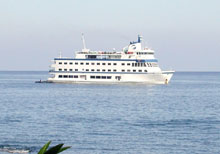 .....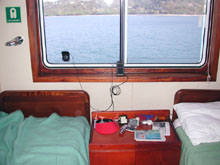 .....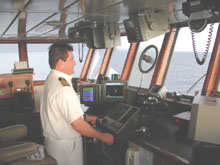 The Pacific Explorer at anchor near the Manuel National Park.
A Garmin GPSmap 76C (in the window center) is powered from a wall jack, so that tracks could be recorded 24 hours a day for the complete cruise. An active antenna is suction mounted to the glass.
Captain Hernán Lara at the helm.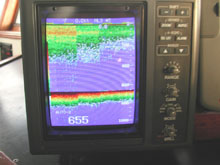 .....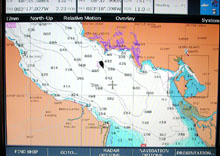 .....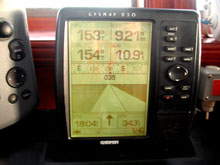 The ship's depth finder reads 655 feet agreeing with the depth notations on the nautical chart.
The ship's nautical chart with a ship-position symbol. "Purple" is the radar return superimposed on the navigation chart.
A Garmin GPSmap 230 GPS provides the navigation position and speed. Here the ship is slightly to the left of course traveling at 10.9 knots and 9.2 miles from the next turn.
Here we can compare the ship's nautical chart (left) to the CenRut map. There is in remarkable agreement with the nautical chart. The dashed line is the ships' projected path and the pink are tracks recorded as the ship went along. The ships position has been spotted with an icon at the coordinates seen on the ship's GPS. Other icons are placed where the ship stopped for excursions.
On the way back from the San Blas Islands, the Atlantic seas were somewhat rougher.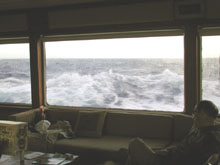 .....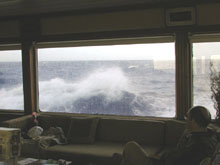 .....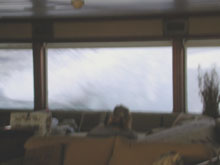 A big wave approaches the ship.
The wave gets a little closer.
Ooops! That was a pretty good one!
However, the Pacific Explorer is a sturdy ship, and nothing untoward happened on the trip.