Costa Rica Tour and Panama Cruise with CruiseWest
A trip where Garmin and Magellan World Maps could be evaluated (28 Apr. 2005)
Text and Photos by Jack Yeazel
Return to GPS General Information Home Page
To record this trip, we took two Garmin receivers and a Magellan SporTrak Color. All performed without a hitch. On these pages, the maps with contour lines are from Magellan's WorldWide Basemap, and those without, Garmin's WorldMap. Generally we used a Garmin Vista-C to record the bus and walking tours, a GPSmap 76C to record the ships position 24-hours a day, and a Sportrak Color to show contour lines.
All tracks were edited and displayed by G7ToWin.
Briefly: Garmin's WorldMap shoreline, islands, and rivers were remarkably accurate, almost as accurate as the marine charts. The highways, however, were "hit and miss". The Magellan WorldWide Basemap topo maps had poor coastline detail, but did have the contour lines. Their highways were even fewer than Garmins.
WEATHER:
In February, Costa Rica, Atlantic side, is cool and sometimes showery. Costa Rica, Pacific side, warm and humid. Seas fairly calm. Panama Pacific side, cool and pleasant (due to the Humboldt Current). Atlantic side, warmer, but still rather pleasant. Seas more windy and choppy. We would suggest you select a cruise in the Costa Rica-to-Panama direction in order to get your sea legs for the Atlantic side. Winter is considered the dry season in Central America.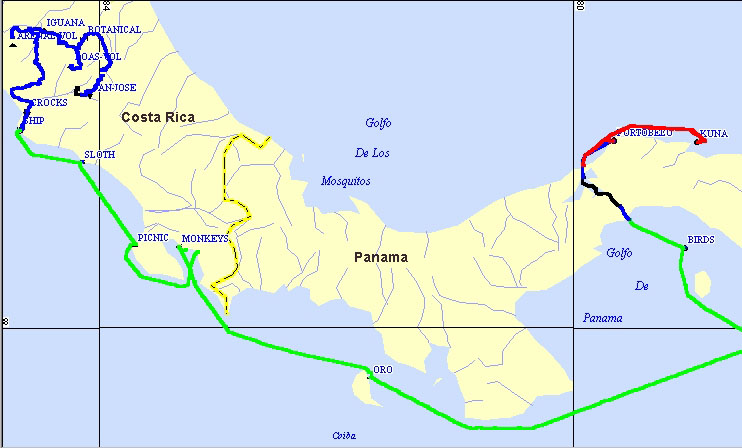 Overall GPS StreetAtlas map of the trip. Blue is Land Tour of Costa Rica, Green is the Ship Cruise in the Pacific Ocean.
Black is the Panama Canal, and Red is the return Cruise in the Caribbean Ocean from the San Bas Islands to Colon.
Part-I Costa Rica Tour (5 Feb. to 10 Feb. 2005)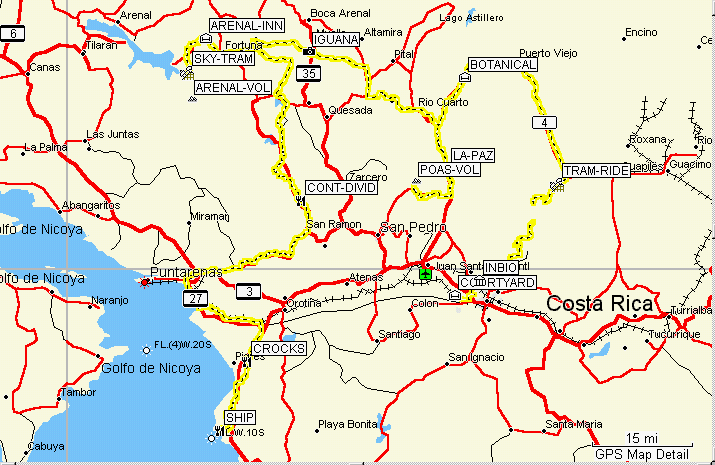 The "yellow brick road" is a GPS track of the CRT bus tour superimposed on Garmin's WorldMap
Click on these Thumbnails to Access Web Pages of Interest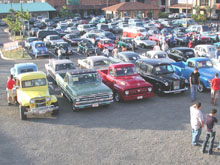 .....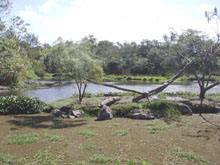 .....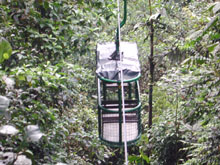 Antique Auto Display near the Marriott Courtyard Hotel. -First night stay.
Inbioparque -Display of aquatic animals and fish of Costa Rica, some being endangered species.
Rain Forest Aerial Tram and Restaurant, Braulio Carrillo National Park.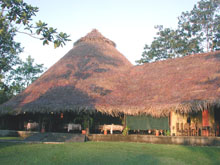 .....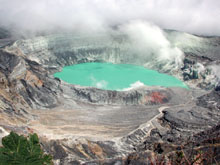 .....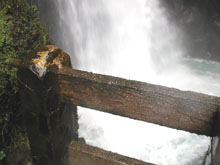 Centro Neotropico SarapiquiS Hotel -Botanical Gardens and Archaeological Site. -Two nights stay.
Poás Volcano National Park.
La Paz Waterfall and Restaurant -northeast of the Volcano.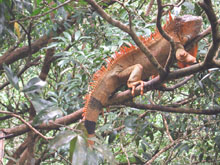 .....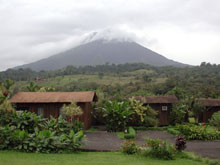 .....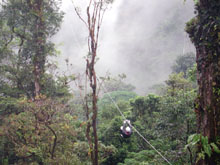 "Green" Iguana "à la mode" (see page).
Arenal Volcano view from the Arenal Paraiso Hotel Cabins. -Two nights stay.
Sky Tram and Zip Line launch point -The destination is invisible!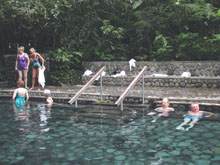 .....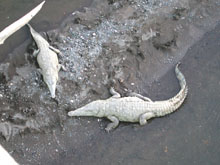 .....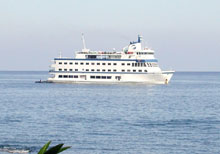 Hot Springs and Pools.
Just when you thought it was safe to go in the water! (On the way to the dock).
Cruise West Pacific Explorer.
Part-2 -Cruise on the Pacific Explorer (11 Feb. to 19 Feb. 2005)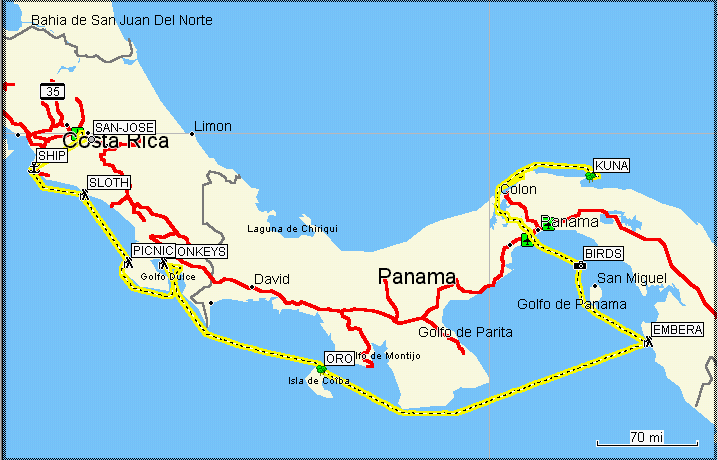 The Yellow Line is the ship track of the Pacific Explorer superimposed on Garmin's WorldMap
Click on these Thumbnails to Access Web Pages of Interest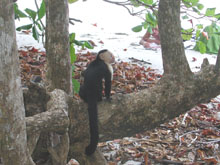 .....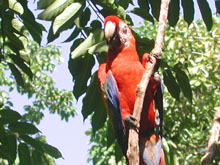 .....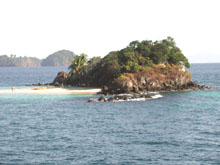 Wild Capuchin (observing beach person) in the Manuel Antonio National Park.
Macaw in the Wildlife Hospital of the Cana Blanca Preserve.
Granito de Oro (Little Grain of Gold) Island -Model for all deserted-island cartoons?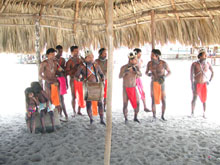 .....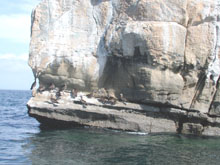 .....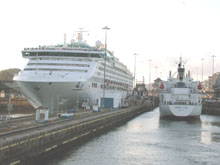 The indigenous people of Emberá -Preparing music for a festive dance.
Pacheca Bird Island of Panama.
The Panama Canal -Hotels can navigate this thing?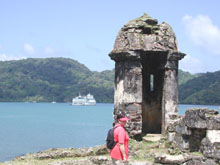 .....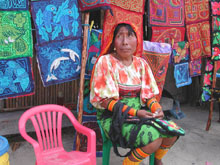 ...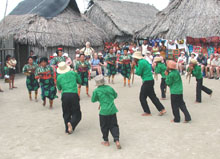 Portobelo -Discovered by Columbus in 1502 (escaping from a storm), later fortified by the Spanish.
Kuna indigenous people of the San Blas Islands -Natives sell their reverse appliqués.
Kuna native dance. The men are playing flutes while the women shake maracas.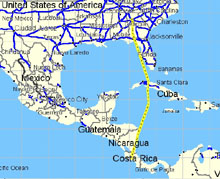 ..........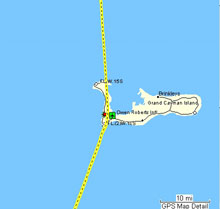 On the flight down, I noticed a "kink" in the path south of Cuba.
It turned out to be Grand Cayman Island. (Where the multinationals send all our money!)
Other Cruise West Cruises with GPS:
Click (HERE) for Alaska and Canada
Click (HERE) for Baja California and the Copper Canyon
Photos taken with a Nikon CoolPix 990 and adjusted with Adobe Photoshop Elements 2.0.